Pinnacle Artists Featured in Prescott Showcase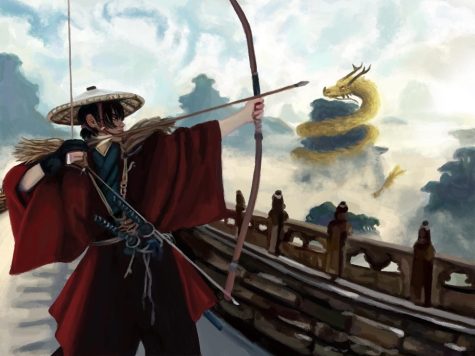 Papers thrown across the room, hands covered with vibrant paint colors, computers click along as an artist moves different components around. This marks the scene for four Pinnacle High School (PHS) students as they worked tirelessly to create inspiring pieces to submit to the Young Artist Showcase at Yavapai College at Prescott Art Gallery.  
Four PHS students received acceptance into the prestigious showcase: junior Ella Aretakis and seniors Erica Garay, Chloe Hill and Taylor Schulz. Encouraged to submit their pieces by their art teacher Kelsey Greenland, students presented their artwork to multiple judges.
"I submitted two of my pieces through their application site online, and it was so exciting to hear back that I was accepted," said Aretakis. "They have a jury system where they go through applications and physically choose which art they want to showcase. It was just truly remarkable to be one of the artists chosen."
The artists dedicated time to creating pieces that showcased their talents and skills. 
"The piece I submitted was 'A Discovery'. I actually composed a sketchbook spread dedicated to researching fashion from the [Gilded Age (1870-1900)] time period, creating composition studies and studying architecture and furniture," said Garay. See Garay's piece in the Spring 2022 issue of Blueprint Magazine.
Each artist took a very different, individual approach to their pieces that truly made them unique.
"I submitted a digital painting titled 'The Last Archer'," said Hill. "The main focus of this piece is the Last Archer himself, training with his dragon mentor, a golden dragon named Tezzeiss. It really showcases a mystical land of high mountain tops, their bases covered by never-ending clouds." 
After hours of hard work on making finishing touches, the artists sent their pieces to the showcase and nervously awaited the results. The artists, pleasantly surprised, heard that their hard work led to their acceptance into the showcase.
"Originally, when I submitted my piece, I wasn't really thinking. With art competitions and showcases, you kind of just send it to everyone and hope someone picks it up," said Garay. "In terms of winning, I was totally not expecting it. I remember them announcing the 3rd, 2nd and 1st place winners and feeling a little disappointed. But then they kept going, and suddenly they announced me as the Best In Show 2D. I was super shocked."
Hill shared similar feelings, shocked but thrilled.
"I was excited to find out I had been accepted, I was hoping I would be. I had created this piece specifically for this art competition. I had really only found out about the competition two days before the piece was due. I had stayed up pretty late those two days finishing up the piece. It made me so happy to find out it had been accepted," said Hill.