Spotlight on Dr. Chad Smith, PHS Principal
Leading with passion and purpose
The importance of a school principal is unmatched in a school community. It takes a lot of patience and effort to get schools running smoothly and effectively. Although, even if it takes a lot of time and effort, some people such as the PHS principal, Dr. Chad Smith, love it. 
As a student, Smith is very fortunate to have great teachers. He found this to be true for him, from elementary school through grad school. Smith grew up friends with his neighbor, who just so happened to be the principal of the high school he attended. In this time frame, Smith dominated on the gridiron. Performing well enough that he had the opportunity, which he accepted, to play football at the University of Utah.  
"No, the reason I got into education is because I was fortunate to always have great teachers," said Smith. 
Students tend to underestimate the compassion that teachers have toward students. At one point, all teachers, staff and administrators were students themselves, which their students today tend to forget. 
Yet, no principal starts off in that role, and sometimes they come into it as a second career, as Smith did. Following a tragic accident, Smith knew he wanted to change his career. That childhood neighbor, who was the principal of the high school he attended, approached him after his life-changing accident and asked him if he was ready to do something with his life. Once he decided to make to direct that change in his career path toward the education of the youth, he earned his Doctorate in K-12 Leadership.
"When you get close to death, you realize the stuff you did wasn't that important," Smith said.  "I decided I wanted to do something important with my life, and I wanted to do something to influence kids who do great things."
He started his new career as a high school teacher. Once Smith made the move to Arizona, he became the principal of a junior high school and his most recent step brought him to take on the role of principal at PHS.
Running a school with a lot of students, like Pinnacle, ironically proves less challenging in many ways than a smaller school. 
 "[You have] more co-workers to operate with, more room to work with and more resources," said Smith. 
As much as the office staff loves the students, it isn't always easy to get the job done. The hardest part according to our principal is having to say no to students, which he says he does more than he would like to. But he does everything he can to help staff and students achieve success and have a great experience as part of the PHS community.
"I have enjoyed working with Dr. Smith and getting to know him over the past few years," said English teacher Monics Flint. "His door is always open, and he always willing to help."
Finishing his 4th year at PHS, Smith impacted students and staff as a supporter and leader and looks forward to his continued future as a Pioneer.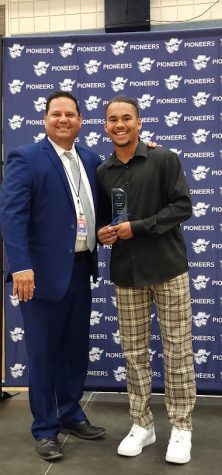 "The easiest part of my job is being around kids," said Smith.