Family on and off the Field
Varsity baseball scores big with lasting friendships
The Pinnacle High School (PHS) Boys Varsity Baseball left the Mountain Pointe Pride speechless as they rallied back from an 8-9 deficit in the eighth inning, finishing one of the last games of the season in a 10-9 victory. This victory not only raised their win-loss record but also the hopes of the players for a shot at State.
Outfielder, senior Jon Niemann reflected on the season and admitted two special games stood out for him. 
"Being the last batter of the game and seeing the two runs come right in front of me was extra special." Niemann said of the first game. "The other was a game a couple weeks ago where I hit the winning run to put our team up by one and hold on to win the game."
 Not cracking under pressure made Niemann a good player and a valuable part of the team. The year proved challenging but the final record reflected only final scores and not the spirit of the team.
"We have lost a couple games so far, but they have been close and the other teams have been really good this year," said pitcher Owen Wade, sophomore.  
In fact, many of the losses this season came by only one run. They also faced some of the top teams in the state. One such team, the Hamilton Huskies, hold the number 6 rank nationally among all high schools. And the PHS varsity baseball showed their grit when they lost in a very close game to this nationally ranked competitor.
The season provided memorable moments for departing seniors who missed a full season last year due to the Covid shut-downs. Among the graduating seniors, Outfielder John Lauinger leaves the team with pride.  
"The most memorable moment of this year was scoring the game-winning run to beat Mountain Pointe 10-9," said Lauinger. " It was a memory I will never forget." 
Personal bests on the field bring pride, but players also value the close-knit friendships formed among teammates highly. 
"My favorite part about being on this team is playing with all of my best friends. Most of my closest friends are on the team and I have made some unforgettable memories with them," said Lauinger, who continues his love for the game next year after earning an invitation to play at Oakland University. 
Even if the Pioneers fall short of post-season goals this year, baseball helped players in many aspects of their lives, from getting into colleges to forming lasting relationships with their teammates.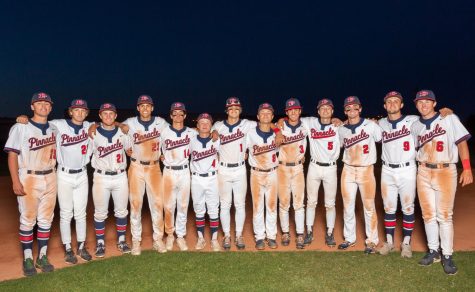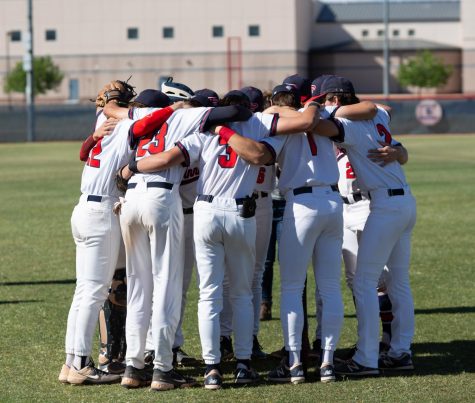 Photos submitted by Jon Niemann