Speech and Debate Team Triumphs
Sophomore Taylor Beth secures team's first spot at national tournament
A very prominent club in the high school scene, speech and debate provide fruitful opportunities for students including college acceptance and in some cases scholarships. The University of Cambridge says that a good GPA combined with debate can make an extremely competitive applicant.
"The world is changing rapidly and we must further develop our critical decision-making and communication skills in order to successfully compete in the expanding global economy. In my opinion, there is no better activity that will develop essential academic, professional, and life skills than dedicated involvement in speech and debate. Colleges and employers are actively seeking these skills" said Yale professor Minh A. Luong. 
The National Speech and Debate Association has been around for nearly 100 years, founded in 1925. Speech and debate is notoriously one of the most beneficial clubs for students, not just for scholarships but it also teaches students lots of skills including organization, note-taking and teamwork. In fact, data shows students' average SAT scores rise after participating in Speech and Debate. 
The Pinnacle High School (PHS) speech and debate team ended the year in an unprecedented manner. A lot of new team members competed for the first time in a variety of events, including the partnered Public Forum Debate, Big Questions Debate and individual speech events, like Impromptu speaking in which students draw a topic, prepare and deliver a speech for judges within seven minutes. The team also competed in Student Congress throughout the year, the first time in nearly a decade for the PHS team.
"I have always enjoyed writing and figured public speaking would be a practical extension of such. However, I must admit that the absolute thrill of debate was unexpected on my part," Beth said.
The ultimate accomplishment this year happened at the last tournament when team President, sophomore Taylor Beth, beat every other competitor in the State in Big Questions Debate to secure Pinnacle's first-ever spot at the national tournament. 
"It's very exciting," said debate coach Teresa Smith. "I've coached this team almost since the school opened, and we've come close to sending students to Nationals a few times, but this is the first time we've ever made it. And Taylor beat everyone in her event to get there. I'm so proud of her."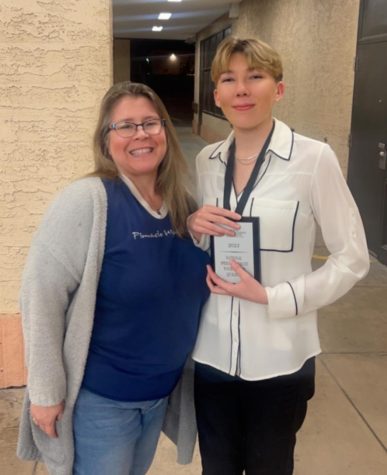 Sophomore Jack Lindstromm, the team's Vice President, also earned a spot to compete at Nationals in Extemporaneous Debate as one of the team's supplemental entries. His experience in Student Congress, Big Questions Debate and Impromptu speaking provide Lindstrom with the skills he'll need to excel in the event, which is new to him.
"I'm glad Jack also gets a chance to compete at Nationals. He had some great success at tournaments this year in Impromptu, so I'm hoping his ability to think quickly on his feet will help him do well in Extemp Debate, which is all about having limited time to argue one side or the other of the assigned topic," said Smith. 
Beth and Lindstrom will join over 6000 middle school and high school students, coaches and adult judges from around the world from June 6 – 11 in Phoenix and Mesa for the largest academic competition in the world. Students will compete in four to six rounds of preliminary competition throughout the week before only those with winning records move on to the so-called out rounds. The final rounds of all events will be held at the Phoenix Convention Center and the whole team hopes Beth and Linstrom will be among those finalists. 
 "Despite the daunting nature of the nationals, the only thing that can be done is practice, " Beth said. "I want to thank my debate coaches Mrs. Smith and Dr. Jones for all of their support and my friend and teammate Jack Lindstrom for being the reliable and optimistic person he is," Beth said.