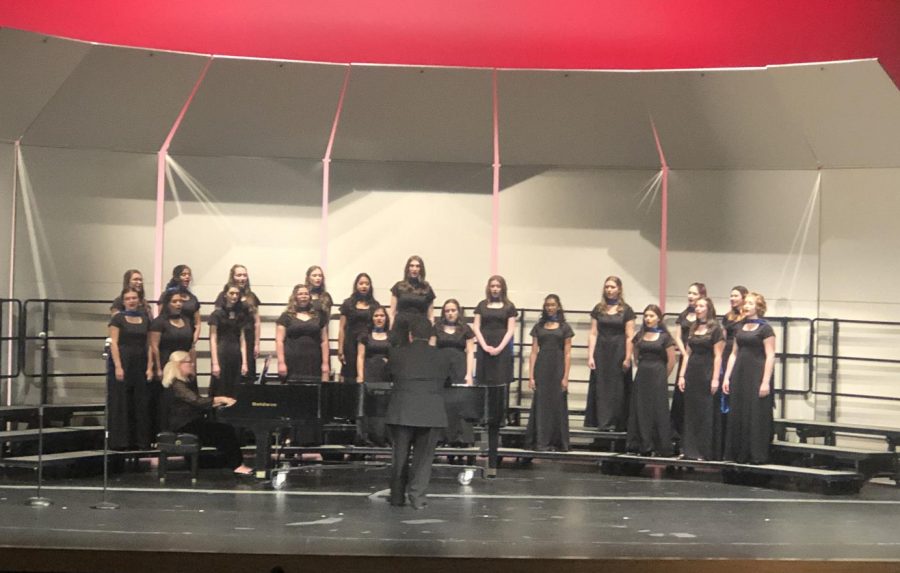 Life Inspires Art
PHS choirs produce stunning performance
March 3, 2020
On Thursday, February 20, Pinnacle High School's (PHS) choirs performed their show Reflections in the PHS auditorium for their annual February concert. The show featured performances from the PHS choirs Cantare, Men of Note, Encore, Harmonics and Prestige and hosted a special guest choir performance by Explorer Middle School.
"It [the show] went very well. I believe that all the students rose to a higher level of musicality and all the performances were very expressive and showed a wide range of musical and emotional depth," said Dr. Jason St. Claire, PHS choir conductor.
St. Claire found inspiration for this show after listening to one song this summer in Kansas. The song was 1941, a song about a soldier writing to his mother during World War II. It brought him to tears and sparked the idea of doing a show on reflections. Seven months later, the Pinnacle Choir presented Reflections. 
Senior Noah Lively, who is a tenor, states "I think it went really well. We pulled off our best performances. Best part was performing with EMS when we did North. It was just a cool experience and I love performing with them," said Lively. 
Paper Crane by J. Reese Norris is about a child affected by the aftermath of the Hiroshima bombings in WWII. Those who saw it performed live witnessed an excellent performance. Sophomore Ava Freundlich, a member of the Cantare choir who performed the song, stated, "I think it [Paper Crane] went well."
Never disappointing, PHS choirs once again provided excellent entertainment. Those who saw Reflections witnessed a remarkable showing of musical expression throughout the night.